Throughout the last six months, we have all thought about what COVID-19 has taken from us, and it has taken a great deal from a great many. But what if we started looking at what it has opened up for us? What if we have more options than we had ever considered in terms of care for ourselves or our loved ones?

In the past, most of us probably put off thinking about how we might manage things if a parent or a spouse fell and was injured, had a traumatic illness, or became cognitively incapacitated. We may have functioned under the "don't borrow trouble" thought process. Now we know – we simply must think about it, and we simply must have at least a tentative plan.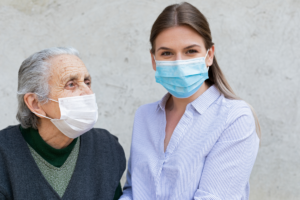 The traditional path when we function through a crisis prism would likely be hospital → rehab → assisted living or memory care. During the pandemic, is this the path we want to travel? Perhaps there are other more creative options.
From the hospital, and with a full assessment verifying the viability of the plan, many can return to their homes with home care and home health providing support services. There are clear advantages to this choice:
Your loved one will be in a familiar, secure environment
You can choose your home health provider (physical therapy, occupation therapy, speech therapy, nursing supervision)
You can choose your non-medical home care provider to assist with activities of daily living
You can SEE and ENGAGE with your loved one on a daily basis
You can be aware of everyday changes and status changes
Is your family member in a gap between full independence and a need for what assisted living might provide? Do you feel pressed to make a decision that the pandemic is making more complicated?
Do your research, or engage a care coordinator or life care consultant to help you understand the options. A few hours a day of in home assistance may be the answer, and can be a smart financial choice. Something this simple can allow your loved one to remain at home for an additional six months, a year, or more.
These decisions are difficult enough in normal circumstances. During a pandemic, informing yourself is the only way to be able to know your choices and make the best decisions for your family. A professional trained to offer guidance and advice is the most effective tool at your disposal.
If you want to know more about your choices, let's talk about our consulting and care coordination line of services, Grace In Motion. Wherever life leads, we can be your guide.
https://khn.org/news/we-put-off-planning-until-my-father-in-laws-medical-crisis-took-us-by-surprise/